It has been said that the kitchen is the heart of your home. It's where you share meals, plan family outings, and create memories with your loved ones. But that often means the kitchen becomes a magnet for clutter and can quickly be an overwhelming space that almost always needs cleaning. Here are tips for how to declutter the kitchen quickly and keep your space organized for a happier, healthier "heart of the home."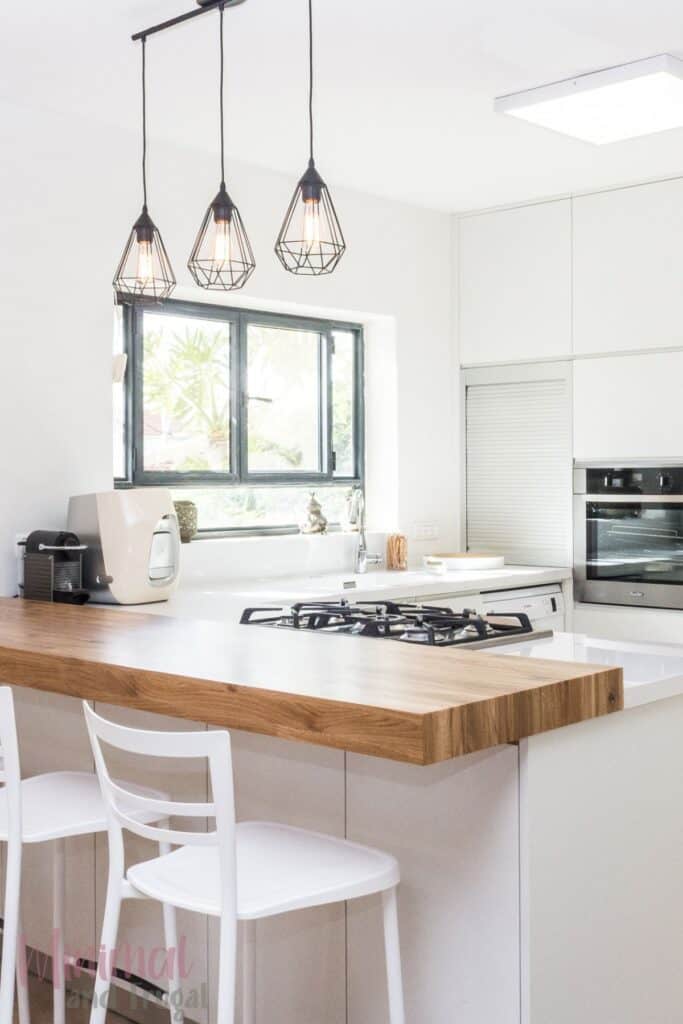 Benefits of an Organized Kitchen
An organized home is a peaceful home. Studies have shown direct links between clutter and mental health struggles such as anxiety and depression.
Most families spend a lot of time in the kitchen. Not only does a clean kitchen help you feel more balanced and peaceful, but it also saves time and money, too! If you know exactly where everything is, you spend less time searching for the things you need. Along those same lines, if you know exactly what you have in your pantry and refrigerator, you can better plan your meals which means spending less money on last-minute grocery trips or going out to eat.
Decluttering Your Kitchen
Begin by setting a timer for 20 minutes and declutter as much as you can in that time frame. Because the kitchen is one of the busiest rooms in the house, it often becomes a landing zone for kids' toys, books, jackets, and other household items that belong in other rooms. Spend 20 minutes putting all of those items in the rooms in which they belong. Resist the urge to get distracted by multitasking in other rooms, though. Don't start a load of laundry, or start putting clothes away. One thing at a time. Right now, we are focusing on the kitchen.
Next, work on the kitchen sink. Taking a note from FlyLady, shining your kitchen sink can be extremely motivating and is a great place to start cleaning and organizing. If you have dishes piled up, load them into the dishwasher so they can wash while you work on the rest of the sink area. It is totally ok if you have to run it more than one time. If you don't have a dishwasher, make up a sink of hot, soapy water and add the dirtiest dishes to it so they can soak while you move on to the next task.
Decluttering Kitchen Cabinets
If you're doing a deep clean, pull everything out of the cabinets. While this may feel like extra work and will take a bit longer, you'll be much happier with the results! Save the junk drawer for later; we'll tackle it when we have more energy.
Take a look at your pots and pans — do you use all of them? Make a pile for duplicate items or items you no longer use that you can donate or gifts to friends and family. Work your way around the kitchen finding the best place for the types of items you use often – such as storage containers and water bottles. However, like with the pot and pans, make note of how many you truly use and need, and add the rest to your giveaway pile.
Next, go through your small appliances. When was the last time you used that ice cream maker? Do you really need a waffle maker for every single holiday? How many coffee mugs do you really need? (Sorry, Rae Dunn) Unless you have plenty of storage space for all of them, narrow down your favorites, and add the rest to your giveaway pile.
Lastly, make sure as you put things back into the cabinets that you are using the space most efficiently. Amazon, The Container Store, and even Target have some great storage solutions that can offer additional shelving, hooks and containers to keep smaller items organized.
Organizing Kitchen Counters
Kitchen countertops can be a magnet for clutter. You first need to decide if your goal is to keep your counter space totally clear or if you want to organize just a few items – such as small kitchen appliances or maybe a small coffee bar area or baskets for grab-and-go food items.
The same way we went through the kitchen cupboards, go through the items you want to keep on your counters – if any – and make sure they have a designated spot. Items that you use daily, like the coffee maker, as well as items that are difficult to store after each use, such as a deep fryer, are good items to keep out. However, remember that the goal is a decluttered kitchen, so make sure to keep as few items out as possible.
Organizing your Kitchen Utensils
Countertop utensil racks are convenient, and they save space. While you're cooking, you don't have to go digging through the kitchen drawers to find a spatula – you just grab it from the rack on the counter.
Pull out all of the kitchen utensils and decide again, how many do you truly use/need and which ones are taking up valuable space for no good reason at all? If you decide you need to keep more than what can fit in a countertop rack, decide which drawer is easiest to reach when cooking.
Organizing your Pantry
Depending on the size of your pantry, this part may take a while to complete. The biggest goal is to make sure you are utilizing your pantry space and not using it as a storage area for things you truly do not need. The decluttering process requires getting rid of things, not just giving them a new home where they will be out of sight.
If you have a large pantry, begin by pulling everything out so you can start fresh to make sure things go where they belong. As you put things that you truly use/need back in, make sure they are easily accessible so that you can remove and replace them without having too much trouble. This is not the time to play Tetris with kitchen gadgets – you want the pantry to be organized.
Additionally, as you add your food items back in, be sure to check expiration dates so you can discard anything that is already expired and make a meal plan with the items nearing the expiration date.
If you have a smaller pantry, Amazon has can holders that can more than triple the space available while keeping things easily visible. You can also use small containers from the dollar store to organize things like seasoning packets, small bags of dried fruits and nuts, etc.
How to Organize Spices
Just like with the pantry, begin by pulling out all of your spices and checking expiration dates. Once you have all of your spices down the simplest way to organize them is based on the amount of space you have, along with how many spices you use on a regular basis.
Organizing spices alphabetically on a magnetic rack attached to a backsplash is popular and affordable. If you only use a few spices on a regular basis, have those at the front of your spice cabinet and the rest of the spices can hang out in the back. I love the idea of organizing them alphabetically, though, so you save time searching when it's time to use them.
If you use a lot of spices, consider a spice rack from Amazon that keeps them all clearly in view and easy to reach. A rack can stay on the counter top or choose one that fits easily into a drawer. For a quick fix, gab a spice shelf that can maximize your cabinet space for easy to grab spices left in their own containers.
The Junk Drawer
Finally, the junk drawer! This is where you'll really want to get serious about getting rid of items you don't use frequently. Perhaps you'll find some junk that has another home somewhere else in the house. Using a drawer organizer can help you keep like items grouped together, but like everything else you want to pare it down to the items you actually use and need.
If your junk drawer is more like a junk cabinet, use wire racks to give yourself extra space to organize everything. Wire racks create an extra level (or two) and literally double your storage space. You may also find you don't need eight cast iron skillets, and you're ready to downsize. If that's the case, get a box ready for Goodwill and add to it as you clean your kitchen.
Small Kitchen Organization
Need more space? If you're running low on space, keep vertical storage in mind. You can easily install a pull-out shelf next to the refrigerator if there is enough room. This is usually where people store extra canned goods, but you can store anything that fits!
Hanging racks are space-savers, too. They're perfect to hang over an island or large countertop. Be sure to hang it high enough so nobody bumps their head.
Keeping an Organized Kitchen
Once you have gotten your kitchen clean and organized, you need a plan for keeping it that way. Moving forward, check on your kitchen no less than once a week. Is it in tip top shape? If not, what needs to be worked on?
If you are seeing the same places getting cluttered often, try to find a solution to manage the clutter in that specific space. For instance, if the mail keeps piling up on the country, consider getting a mail organizer that lets you stack the mail by person or priority. Keeping an eye on these areas specifically and finding solutions that can manage the clutter for good can help you keep your kitchen in order.
It can seem like keeping the kitchen clean is a never-ending battle, and some days you will lose. However, if you check in on your kitchen (yes, even the pantry and refrigerator) on a regular basis, you'll notice it's much easier to keep up with and you can maintain a stress-free, clutter-free heart of the home kitchen.