Keeping a happiness journal is a small thing with big rewards. Spending time daily focusing on positive things in your life will help boost mental health, encourage positive feelings, and experience the power of gratitude. These Happiness Journal Prompts are a great way to start your journey.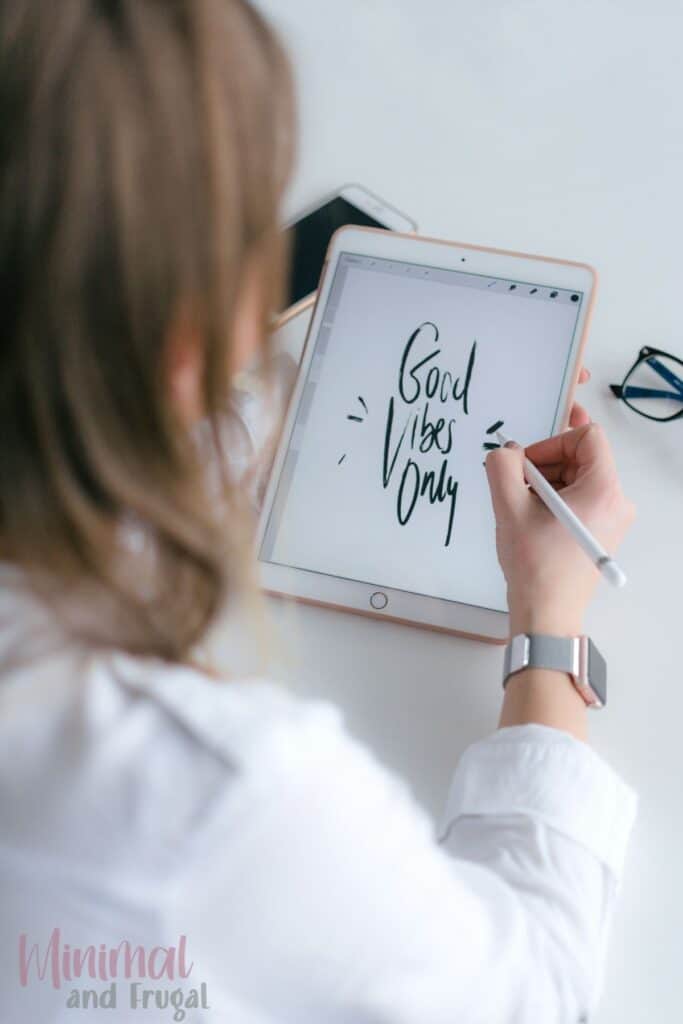 What is a Happiness Journal?
A Happiness Journal is a place for you to document the good things in life that make you feel happy every day. From positive experiences to finding the silver lining in not-so-positive experiences, a happiness journal gives you a place to record them all.
The point of a happiness journal is really to focus on happy moments in your life, past, present, and future, and practice gratitude for each of those moments. It is not just a matter of writing them down but also taking a moment to feel grateful for those experiences. Celebrating life's simple pleasures is one of the best habits you can create, and with a journal, you can record those moments to reflect on during hard times to lift your spirits.
Journaling can also help you discover hidden thoughts that may be causing stress in your life or discover new passions you want to spend more time pursuing. The act of writing or typing these feelings will help you uncover how you may actually feel about some scenarios that you otherwise keep private. A Happiness Journal is yours and yours only, so you can be as open and deep as you want to be to really discover more about yourself. You may choose to share it with a best friend or even family members, but if not, that is totally ok too. This is all about YOU.
Happiness Journal Tools
Even though you may think you need a fancy notebook or pretty pens to get started, you don't! You can even use a digital journal the same way you do digital planning to keep everything at your fingertips. This is beneficial so that you can jot down your thoughts no matter where you are.
You want to make sure you are writing in your journal on a regular basis so make sure to set some time aside each day or week when you can quietly focus. There is no perfect day to get started – like anything else it is just a matter of making the commitment to write, and then carrying through.
Although research shows gratitude journaling is most effective when practiced consistently, the journaling process takes time to get used to. When starting out, set a goal. Your journal can be a place to practice gratitude at any moment.
You can write in it daily for a week, 30 days, or however long you'd like. Or, you can write in it when you're feeling especially inspired, or when you need an extra dose of gratitude in your life. After practicing gratitude journaling for a few days or weeks, you'll see noticeable changes in not only your overall attitude but also your mindset towards life.
Happiness Journal or Gratitude Log?
A Gratitude Log is a place to record the things you are grateful for, while a Happiness Journal is more of a place to dig a little deeper and share more details about the experience. With a Happiness Journal, you can include simple things or more complex emotions and thoughts to really paint the picture of your own happiness.
You can also choose to include positive affirmations in your journal or even notes to your future self that you can reflect back on for years to come. Maybe you want to include a bucket list of great things you want to see or do that will make you happy or bring positive changes into your life.
The point of both is to give you tools to keep your stress levels down, so it may be that your journal becomes a mixture of both – writing more on days that you feel like it and making a quick gratitude list for days you do not. Both will have a positive effect on your wellbeing and bring the benefits of gratitude, so make sure not to let this become something else on your to-do list that makes you feel anxious.
How To Have More Gratitude
Happiness and gratitude can be found in the big moments, down to the smallest ones. Your mind is a wonderful tool to help you appreciate the world around you, and the things in your life that you might have glanced over before. When you start a happiness journal, you begin to see things that you can be grateful for that you might not have stopped to recognize before.
It's like when you're on a long road trip and you think about a green car. Maybe you've seen one or two along your way, but ever since you started thinking about it, suddenly realize just how many of them are on the road. That's because you're subconsciously looking for green cars now.
You can do the same thing with gratitude. You'll notice that being consciously grateful for things every day, no matter the size, will end up becoming second nature for you.
How To Start a Happiness Journal
Happiness journal prompts are great beginning exercises for newbies who want to start journaling and dive into the world of gratitude because they provide structure with room for creativity, too.
Beginner journalers can use these prompts as inspiration or even inspire new ideas that may be more exciting to write about. Even if you don't have any answers when you first read the question, that's okay. Find the one that resonates with you on that day, open your mind, and just write.
When first starting out, knowing what to write or coming up with prompts for yourself can be a bit of a challenge. No worries, there are plenty of ideas below to get you started and inspired. Here are 31 of the best happiness journal prompts about gratitude so you can begin your journaling journey.
Happiness Journal Prompts
Who is someone who makes you feel loved? Why?
Jot down three things that made you smile today.
Name one reason that you love your body.
What is something positive you wish you could tell your younger self?
What is your favorite quality about yourself?
Name something that made you laugh today.
What is your favorite part of each morning?
What is a difficult situation you've faced that turned out to be a good lesson?
Share some positive news that you've received recently!
Name an event that you're excited to attend or celebrate.
What is your favorite memory?
What is the best compliment you've received?
When was the last time you made someone smile?
Why are you excited to begin or continue journaling?
What is one personal strength you're grateful for?
What is one song that you can't help but dance to?
Name something about or in your home that you are grateful for.
What is one thing you are looking forward to in the next 24 hours?
What are some of your happiest moments from last year?
Name 2 favorite quotes that resonate with you right now, or make you smile. Why do they have meaning for you?
How can you show gratitude towards yourself, even if it's small?
Something you love about your job or career path.
Your favorite mistake that ended in a great lesson or experience
What is your favorite day of the week, and why?
What is something you have to be grateful for regardless of how your day was?
Name a song that makes you feel nostalgic. Why does it make you think of this time in your life?
Who has been an inspiration to you lately and why?
What is something you're proud of?
What is one of the most beautiful things you've seen lately?
Are there any little moments from your day that deserve a journal entry, but didn't get one?
What is your happiest memory from your childhood?
What is the best piece of advice you have ever received?
Who had the most positive impact on you as a child?
What parts of your life are you most proud of?
Where is your favorite happy place?
There is an abundance of different journaling prompts that can help you on your gratitude journey. These prompts are a great start to getting the ball rolling with your practice of gratitude. Remember that each moment has its positives and every day holds something to cherish. It's up to you to find them.