Use this Emergency Fund Tracker Printable to build your savings account and not be derailed by unexpected expenses or financial hardships. This free printable savings tracker will keep you on track to achieve your savings goals.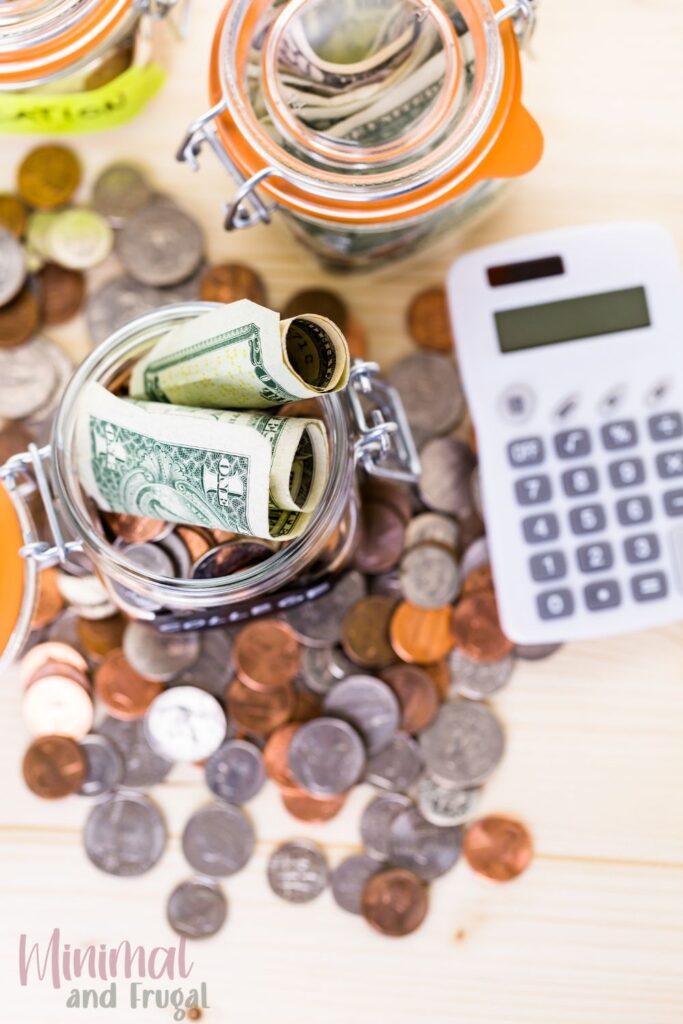 Building an emergency fund is critical for financial security and, more importantly, peace of mind. Many Americans admit to being kept up at night, losing focus at work, and even struggling with anxiety because of financial stressors at home. If you're one of them, I hope I can help you find peace in building your emergency fund – even if you don't have loads of extra money just sitting around.
What is an Emergency Fund?
An emergency fund is an emergency savings account that is available when unplanned expenses arise. Many households would struggle in the event of a sudden car repair, medical bill, or job loss. An Emergency Fund is considered the first "baby step" to financial freedom and can bring significant peace of mind knowing you can handle sudden life occurrences without blowing your usual monthly budget.
It is important to remember that an Emergency Fund is not a rainy day fund or vacation savings – this account is to be solely used for emergency needs to lessen the financial shock of a large bill.
Starting An Emergency Fund
The first step to starting an emergency fund is to open a dedicated savings account where you will only make deposits until you have reached your savings goal. You have to treat this account like reserve funds – making the commitment to not make any withdrawals until you achieve a specific amount, and only then when it is a true emergency.
The amount of money you want to save for your initial emergency fund goal may be different from others, but starting with the goal of $1,000 is a great starting place. If you want to aim a little higher, set your goal to be at least a months' worth of your expenses.
Once you have set up your bank account, set your goal for how often you will make a deposit – remembering that every little bit helps. You can use a free printable emergency fund tracker like the one I have linked below, or a good old-fashioned check register. However you choose to keep track, make sure that you keep your goal top of mind, and do not let too much time go by without making a deposit.

Steps to Build Your Emergency Fund FAST
In the financial world, everyone talks about getting out of debt, buying a house, and building an emergency fund. Whether you want to save a starter emergency fund of $1,000 (the bare minimum), or one that looks more like $10,000, evaluating where you are and setting goals will help you achieve them much faster.
Evaluate where you are.
You can't move forward unless you know where the starting line is. The baseline is where you are right now, with everything else simply being UP from here. Start with an evaluation, and be honest with yourself. If you're spending way too much money on fast food or makeup, don't beat yourself up over it – just fix it.
To do a thorough evaluation, check your bank account, Paypal, Cash App, etc. This includes prepaid debit cards or any other accounts you may stash and spend money from.
How's your money situation? Is your income higher than your expenses? How much extra do you have each week or each month? Write all of these numbers down, as they're equally important in figuring out where you are, and making a plan for how to allocate your income to meet your financial goals.
Fix the leaks.
Print off the last 3-6 months of bank statements and go through and highlight necessary expenses in one color and unnecessary expenses in another color. This is an easy way to see where your money is truly being spent at a glance. Think of unnecessary expenses as "leaks" – places where money is being spent that can very easily be saved.
How often did you purchase fast food? How expensive was your last date night? How many last-minute grocery store trips did you take because you didn't have a meal planned? How many times did you buy a soda or snacks from the gas station? How many coffee runs did you make? What subscriptions have you signed up for that you have forgotten about? Little things over time can add up to a large sum of money wasted,
Everyone has their own budget leaks, so take some time to sit down and figure out what yours are. While going through your bank statements, the leaks will usually become clear pretty quickly! Many of us have expenses each week, or even every few days, that we don't consciously take into account when evaluating our financial situation. These are the most dangerous leaks because we don't even realize we have them!
Related Article: 5 Painless Ways To Cut Household Expenses
Fixing the leaks is a must, no matter how much money you make – or how tiny the leaks may seem at first. If you add up all the "little" leaks over a 6 or 12-month period, you're going to notice just how much money you are losing without even seeming to notice.
You don't have to go from 100 all the way down to 0 overnight. What I mean is, if you're used to a coffee run every morning, you don't have to quit cold turkey. Buy coffee to make at home and see how close you can get it to what you're used to. Then, start cutting back. You may realize you like the coffee you make at home even more than the stuff you get at the coffee shop.
Next, we will talk a little about adding income to your budget. Even if you make a large salary, you'll need to fix the leaks to find extra money to build that emergency fund.
Make more money.
Building an emergency fund comes down to a simple principle: more money in, less money out. If your income isn't already covering your bills on a monthly basis with some leftover to add to your emergency fund, changes need to be made. The good news is, these changes aren't painful. The bad news? You're not going to build your emergency fund overnight.
There are hundreds of ways to make extra money to build your emergency fund faster. Whether you start a blog as a semi-passive long-term income stream, or you deliver for UberEats after your 9 to 5 job, the amount of extra income you can earn from a side hustle is endless.
Even if you can cut expenses, it is possible that you will still need more income. YouTube is a wealth of information, complete with full videos (all for free!) about how people just like you and me became millionaires because of their side hustles. While the millionaire life isn't everyone's goal, you can easily make an extra thousand dollars a month (or more!) with side hustles.
The next steps…
No matter how intense you are with fixing your financial leaks or making more money with a side hustle, your journey is your own and you shouldn't feel bad about any setbacks. Life happens, things get in the way, and paying off debt can be painstakingly slow. However, you're on the right path and you CAN do this! Keep reminding yourself of that! Negative self-talk can set you back even more, so keep it positive.
Emergency Fund Tracker Printable
This digital downloadable file can be printed out or kept in a digital planning software like Goodnotes. This visual tracker lets you easily chart your progress with $10 intervals until you reach your $1,000 goal!