Here is what to track in a bullet journal to help you keep on track with your goals – whatever they may be! Digital planning with a bullet journal lets you keep all of your trackers right at your fingertips.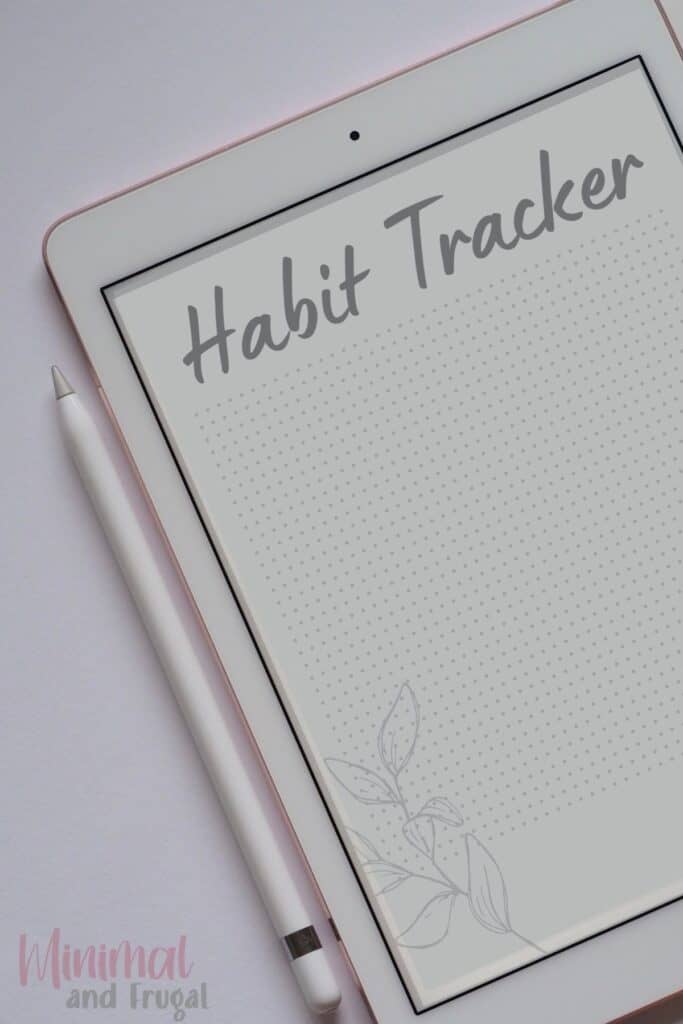 Tracking your habits and progress is an important part of achieving your goals. Between being able to spot patterns as well as the overall accountability, keeping track of your activities in your digital planner can help you stay on track.
It is said that "you can not manage what you can not measure" and bullet journal trackers give you a place to measure virtually every aspect of your life in a fun and functional way.
Here are some suggestions for what to track in your bullet journal and be sure to join our mailing list to receive new free digital planning templates as they are released.
Mood Tracker
A mood tracker is one of the most popular types of trackers when it comes to beginner journaling because it helps you visually see how your moods are depending on the day and activities. It can even show you how journaling has helped improve your mood.
A good digital mood tracker should have space to write in your current feelings or doodle what is on your mind. With a digital planner mood tracker, you can use different colors, different designs, digital stickers, and more.
Click here to grab our free Mood Tracker template.
Daily Water Tracker
This one is pretty simple! Water is a key component of living a happy, healthy life. Even though it sounds super simple, most people are chronically dehydrated, and a digital daily water tracker can help you make sure you are getting in your daily H2o.
Drinking enough water is probably one of the most underutilized health practices today. Drinking water allows your organs to function properly, your mind to be alert and clear and has awesome digestion and skin benefits.
Not only is a hydration tracker a cute addition to your journal, but it can also provide good insight as to how you should personally adjust your daily water intake habits. Pro Tip: use an app like WaterMinder to remind you when it's time to take a sip!
Click here to grab our free Daily Water Tracker template.
Exercise Tracker
Similar to journaling, exercise is known for having positive effects on your mental and physical well-being. Whether your goal is to lose weight, get strong, or just enhance your fitness, keeping track of your workouts is fun and easy with a digital bullet journal. Tracking your workouts also helps to keep you from overexerting yourself by having your rest days planned in your tracker.
Within your bullet journal you can track your exercise minutes, reps, lifting weight, current PRs, and more. Like most everything else, the longer you track your workouts, the more progress you will see.
Meal Tracker
The saying "you are what you eat" is more true than ever before, and keeping your meals in a tracker can help you discover the best eating plan for you and your family.
Sometimes it's hard to find the time to cook three meals every day. If you're someone who is trying to stay healthy, but you live a busy lifestyle, or you're someone who struggles with food, having a tracker can help you out.
Whether you use it to plan your meals in advance or simply track what you're using to nourish your body, it can provide better insight into why your energy levels plummet in the afternoons or if your jeans are feeling a little more snugly than you like.
This is a great way to make adjustments to how often you're eating out, or see how what types of food you're eating affect your day and mood.
Sleep Tracker
If you're someone who struggles with getting enough sleep, or you think that you're someone who gets too much sleep, what better way to find out than to track it? Having an irregular sleep schedule can have negative effects on your mental and physical health more than you may notice. By tracking your sleep you can spot patterns related to stress, your cycle (for women of course) your workouts, or even the foods that you eat.
If you have an Apple Watch, the SleepWatch app is great to give you the metrics to track including hours slept, interruptions, and even your average heart rate while sleeping.
Click here to grab our free Sleep Tracker template.
Television Show Tracker
Does your "watch list" just keep growing? Are you struggling to remember what is on Netflix, what is on Hulu, do you really need Peacock!? Then a TV show tracker is a perfect way to fill space and have a fun addition to your digital journal.
If you're a movie or a TV show buff, you can keep track of series and episodes that you've watched or plan to watch right at your fingertips. Save yourself from the endless scrolling and keep your list handy.
Book Tracker
For all the bookworms out there who have a stack of books or a full Kindle library to read already, but keep buying more… this tracker is for you! Write down all of the books you've been trying to find the time to read and set a goal for your reading each day.
Then set your goal to read either a certain amount of time or a certain number of chapters each day and before you know it you'll be through that seemingly never-ending pile of unread novels.
Click here to grab our free Book Tracker Template.
Emergency Fund Tracker
Working on becoming financially free? An emergency fund is one step toward financial freedom. Each goal can be a monetary amount that you deposit into your account to see it grow.
You can create a beautiful tracker in your bullet journal yourself or grab this free Digital Emergency Fund Tracker to track your progress on creating an emergency fund.
Habit/Goal Tracker
Habit and Goal Trackers are the most complex but probably most widely used types of trackers, mainly because they are so versatile. This type of tracker is designed for you to pick whatever habit that you want to incorporate into your life and keep a visual record of how well you are keeping up with that new habit or goal.
You can keep a simple goal tracker like the one linked below, or get more creative in how you want to track your progress.
Having a goal tracker may be one of the most important types of trackers to have in your journal. Journaling is known to improve mental health and motivation, so having a place to track that growth is awesome.
The cool thing about this tracker only being part of your journal is that you can look back on the days that you didn't meet your goal, and see what was going on, how your mood was, or any other outstanding factors that may have gotten in your way. Maybe it's as simple as you just had an extremely busy day, or maybe you overslept and you need to keep an eye on how you're spending your time.
Click here to grab our free Habit Tracker template.
As you can see, there are many different trackers that may be of use to you in your bullet journal. Experiment with these types and find out which ones work best for the way YOU think! You might even discover a new tool or two along the way that will help you make healthier lifestyle choices easier than ever before.